Potatoes For Pagans
Cousin Chrissy said she wasn't leaving any comments because, although she recognizes the beauty of the religious posts, she relates more to the potato posts. Therefore, I offer you this potato post in her honor.
Potato Quotes:
"What I say is that, if a fellow really likes potatoes, he must be a pretty decent sort of fellow."
A. A. Milne (1882-1956), popular children's author
"A diet that consists predominantly of rice leads to the use of opium, just as a diet that consists predominantly of potatoes leads to the use of liquor."
Friedrich Nietzsche (1844-1900), German philosopher
"My idea of heaven is a great big baked potato and someone to share it with."
Oprah Winfrey, television personality
Potato Myths:
If you have a wart, rub it with a cut potato, then bury the potato in the ground. As the potato rots in the ground, your ward will disappear.
If a woman is expecting a baby, she should not eat potatoes because the baby will be born with a big head.
Potato Joke:
Why did the potato cross the road? He saw a fork up ahead.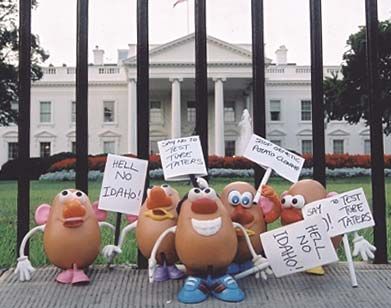 Visit the following link to be connected to one of the funniest photo-essays I've ever seen (see photo above for a hint of what you're in for!© Timm Chapman--thanks for granting JAIBHAKTI permission to use this photo, Tim!). http://www.spudstravels.com/
May we all take comfort in knowing, this holiday season, that a full tummy is only a baked potato away. Cheers! --Bhakti
tags:
humor
,
potatoes